Wow the crowd with these delicious pork carnitas tacos. Using the slow cooker makes the process easy.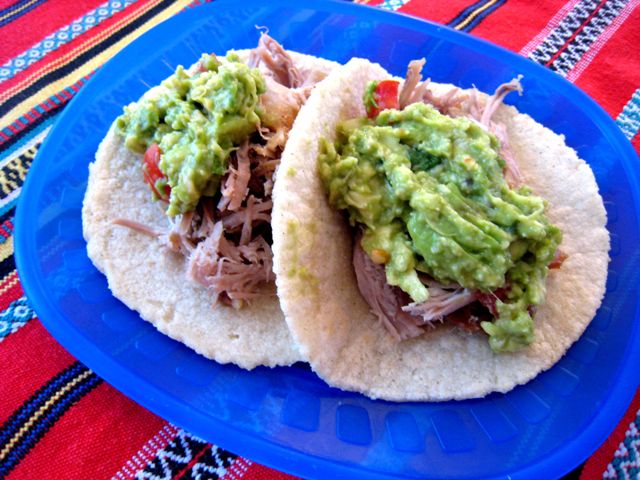 One of my favorite childhood memories is going to Olvera Street in downtown Los Angeles and eating at La Luz del Dia, the restaurant on the corner of the plaza. The carnitas soft tacos are sooooo delicious. To this day, my brothers know how to make their big sister happy. On their way through LA, they cruise by and pick up a pound of carnitas and a stack of corn tortillas.
Carnitas means "little meats" in Spanish. It is a seasoned, roasted shredded pork filling used for tacos. So good!
Though I consider "Olvera Street carnitas" to be the gold standard of shredded pork tacos, I do make an equivalent of sorts at home. It's cheaper, that's for sure, and a little easier to achieve than a drive to the City of Angels. Though "carnitas purists" may disagree, you can make this in your crockpot for a simple and delicious dinner.
This same meat goes super well atop Tostadas or inside taquitos.
Carnitas Soft Tacos
Wow the crowd with these delicious pork carnitas tacos. Using the slow cooker makes the process easy.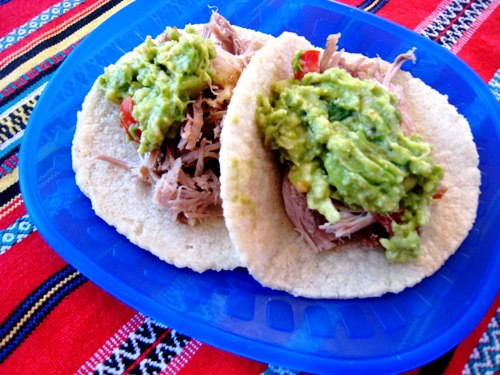 Preparation Time: 10 minutes
Cook time: 4 hours 10 minutes
Total time: 4 hours 20 minutes
serves 6 to 8
Ingredients:
3-4 pound pork shoulder roast

fine sea salt and freshly ground black pepper

1 onion, chopped

1/2 teaspoon dried oregano

1/4 cup water

corn tortillas, preferably homemade corn tortillas
Instructions:

Place pork roast in crockpot. Season with salt and pepper. Add chopped onion and sprinkle with oregano. Add water to pot.
Cook on low for 8 hours or on high for about 4. Meat should fall apart.
Remove the meat from the pot and shred. Place in a baking dish and place it in the oven at 400 to crisp the edges just a bit and brown the meat, about ten minutes.
Save juices for chili, stew, or soup.
Serve the meat with corn tortillas and guacamole.
To freeze: Cool meat completely and place in ziptop freezer bags. Squeeze out excess air and freeze.
Tools I use for this recipe:
This post does include affiliate links. If you make a purchase from one of these Amazon links, I am paid a small amount in advertising fees. Your price is not changed, but your purchase helps keep this site available to provide free content to you and all your friends. Thanks for your support.
Do you have a favorite taco memory?