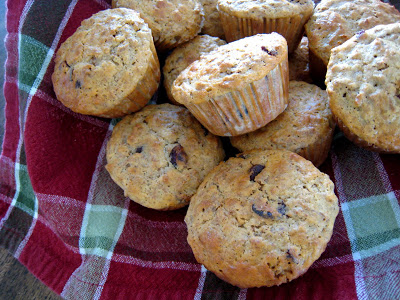 A few months ago I was able to score free All-Bran cereal, after sales, coupon, and rebate. It's not a normal purchase at our house, but since it was free and healthy, I figured I could always bake with it. And I have! Believe it or not, I've substituted it for flour in a number of recipes, including cinnamon rolls. And no one knew the difference. Very nice!
I've also done some experimenting with muffin recipes. This one is the most recent result.
1 1/2 cups unbleached flour
2 1/2 teaspoons baking powder
1/4 teaspoon baking soda
1/4 teaspoon salt
2 cups All-Bran cereal
1 1/2 cups buttermilk
2 eggs
1/4 cup oil
1/2 cup sugar
1/3 cup chocolate chips
1/2 cup dried cranberries
Preheat oven to 400°. Grease a muffin tin or line with muffin papers. In large mixing bowl, combine flour, baking powder, baking soda, and salt. In another mixing bowl, combine cereal and buttermilk. Allow cereal time to soften, then stir in eggs, oil, and sugar. Add wet to dry ingredients and add chocolate chips and cranberries. Fold to combine. Spoon into prepared muffin tin. Bake for 20 to 22 minutes, or until a tester comes out with a few crumbs.