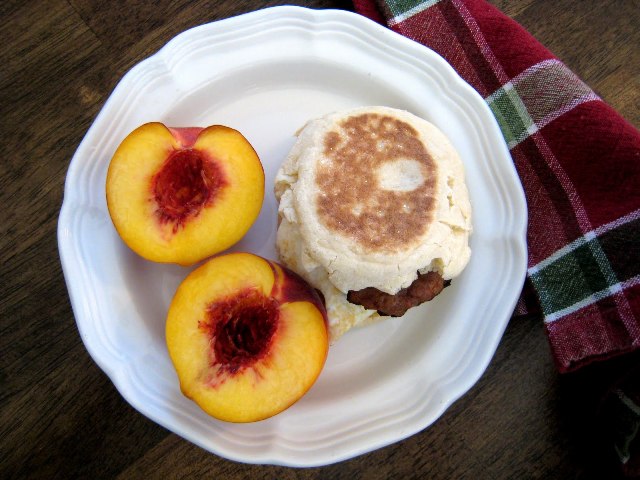 Recently, my husband asked if breakfast sausage patties ever went on sale. He had a hankering for Sausage Egg McMuffins, but didn't want to pay the McPrice it would cost to feed our family at the Golden Arches. I was sorry to say, no, those kind of sales rarely cross my path. So, when I saw this at Ralphs this past weekend, I stopped in my tracks.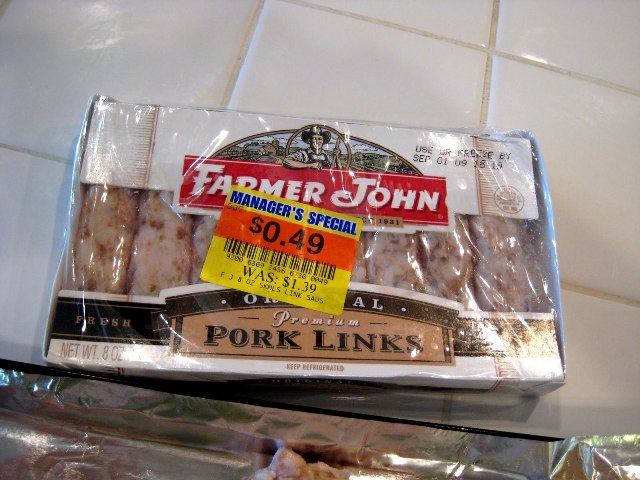 Packages of Farmer John breakfast links marked down to $.49 each! Couldn't pass them up. I snatched up about a dozen packages and stashed them in the freezer. This morning I tried out my experiment. Links without casings can very easily become patties. Yeah!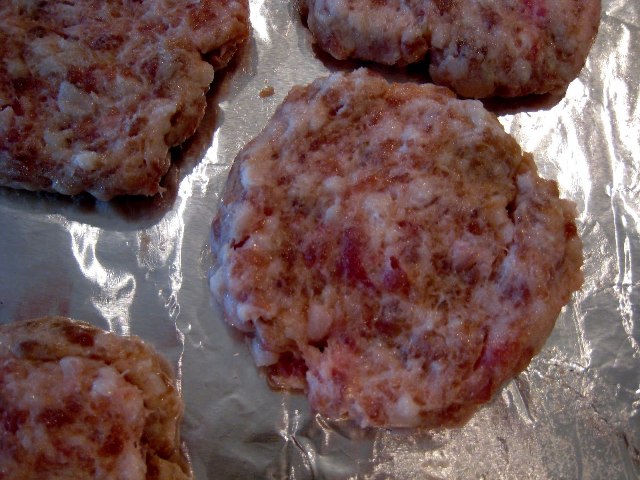 The price breakdown:
8 ounce package of breakfast links w/o casings, or sausage patties $0.49
butter $0.10
eggs $0.40
English Muffins, split and toasted $1.00
peaches $0.59
When combined with fresh fruit, these sandwiches cost less than $0.70 per person! Now that's a good. cheap. eat!

Recipe: Sausage and Egg Breakfast Sandwiches
Serves 4
Ingredients
8 ounce package of breakfast links w/o casings, or sausage patties
1 Tablespoon butter
4 eggs
4 English Muffins, split and toasted
4 peaches
Instructions
Line a rimmed baking sheet with foil and preheat oven to 375°.
Form patties by combining two links together and patting very thin. There will be a lot of shrinkage, so make them as thin and wide as you can. Bake for 15 minutes, turning once for even browning.
Meanwhile, melt butter in nonstick skillet and spread around. One by one, crack eggs into skillet. Flip once set and cook until done. Assemble sandwiches.
Serve with fresh peaches.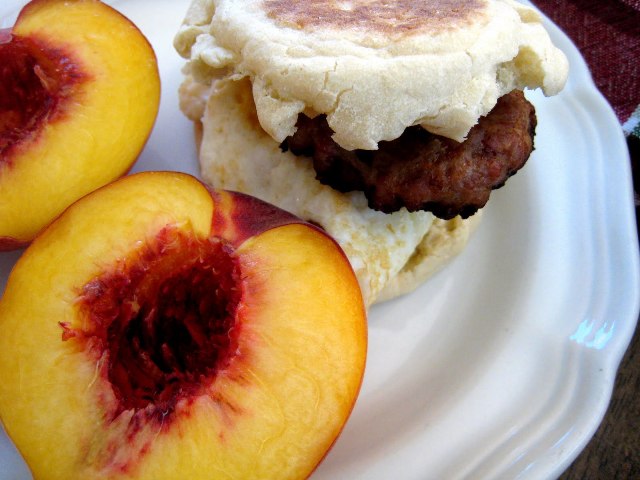 For other bargain meals, visit the $5 Dinner Challenge. And check out Tasty Tuesday at Balancing Beauty and Bedlam.