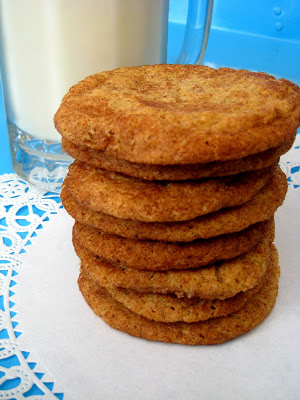 A healthier twist on an old classic, these are delicious. And kids love to help roll them in the cinnamon sugar.

Recipe: Whole Wheat Snickerdoodles
Ingredients
1 cup butter, softened
1 1/2 cups sucanat or brown sugar
2 eggs
1 cup whole wheat flour
1 1/2 cups unbleached flour
1/4 cup flax seed meal
2 1/2 teaspoons cream of tartar
1 1/2 teaspoon baking soda
1/4 teaspoon cinnamon
1/2 teaspoon salt
2 Tablespoons sugar
2 teaspoons cinnamon
Instructions
Preheat oven to 400°.
In large mixing bowl, cream butter and sugar. Mix in eggs, one at a time. Stir in flours, flax meal, cream of tartar, baking soda, 1/4 teaspoon cinnamon, and salt. Mix well and chill.
Meanwhile, in small bowl combine sugar and 2 teaspoons cinnamon. Roll chilled dough into 1 inch balls. Roll through cinnamon sugar.
Place on ungreased cookie sheets. Bake for 8-10 minutes. Cool on rack.
Store the cookies in an airtight container at room temperature for up to a week or in the freezer for up to 2 months.