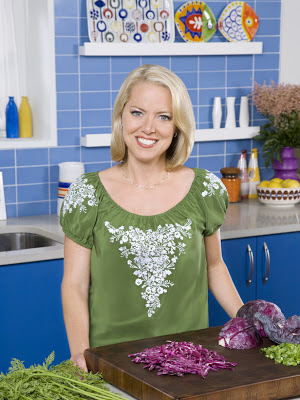 Until I discovered that Food Network was part of our cable package, I had a hard time justifying 30 bucks a month to watch football and the science channel. But, no problem now! I am hooked. As is the whole family.
Bobby Flay and Alton Brown are household names around here, and Chopped, and of course, Good Eats are some of my very favorite shows. As is The Next Food Network Star.
If you read LifeasMOM, then you know me like a book, and it would be no surprise to you that I was so thrilled when francophile, mother of many, foodie Melissa D'Arabian won last weekend. Yeah! I am even more excited that the slant of her new series, Ten Dollar Dinners, is frugal food! Every week she'll be featuring a menu that will feed four people (sometimes with leftovers) for less than $10.
Today her first show aired and I am pleased to report that the "Perfectly-Priced Parisian" menu featured was wallet- as well as family-friendly. Her Potato-Bacon Torte and Cafe Green Salad are simple, yet filling dishes. They are made from ingredients that are usually low-priced, but you can often find flour, butter, potatoes, bacon, and salad greens for really low prices, particularly if you shop the sales or use coupons. I imagine that with savvy shopping, you could easily cut this $10 price tag in half.
The one item that I rarely see on sale would be the fresh thyme that she infused the cream with for the potato torte. Unless you grow fresh herbs in your garden, that ingredient could be the pricey "extra." I imagine it might be worth the splurge. But, if it's really not in your budget, you could use dried thyme. Simply put it in a tea ball and steep the thyme in the cream. It won't be exactly the same as fresh, but a more frugal approximation.
Yes, you could always stir in dried thyme, but leaving floating herbs is kind of a no-no in French cooking. Speaking of which, having lived in France for a time, I can also testify that the menu was very reminiscent of meals that I knew and loved while there.
Her Applesauce Granita (just freeze 2 cups unsweetened applesauce with a squeeze of lemon and fluff it once frozen) couldn't be simpler, and would make a great recipe to prepare with your children. Applesauce often goes on sale, or you could make your own and then freeze it. She topped it with a sauce of plain yogurt mixed with maple syrup and cinnamon. Yum! Unfortunately, they did not have that recipe on the website.
Ten Dollar Dinners promises to be fun, entertaining, and the source of a whole new world of good (& cheap) eats. While it's time frame isn't the best, you can still access the menu, recipes, and clips from the show's website. It's not quite the same, but still a great resource. I'm eager to try this week's menu soon!
What do YOU think of The Next Food Network Star?

*photo Food Network