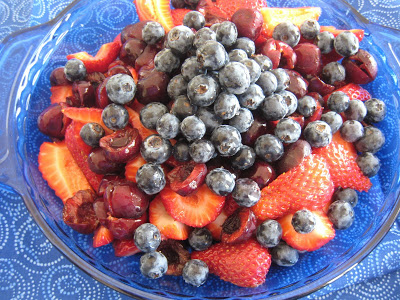 When summer fruits are plentiful and on sale, fruit salad is a great thing to add to your menu. It's light and refreshing. And everybody likes it.
I prefer not to mix my fruit salads, but instead just to layer the ingredients. I find that the fruit retains its flavor and freshness a little longer this way. When you stir it up, it can get kinda, well, slimy from the fruit being crushed and swapping juices.
Not only does a layered fruit salad last longer, but it also looks really pretty. Here I layered strawberries, sweet cherries, and blueberries. Delicious!