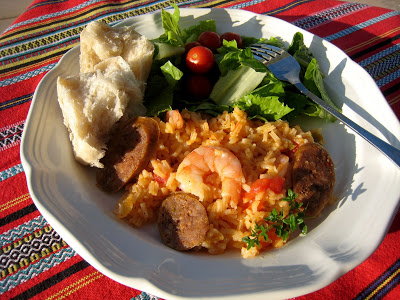 Awhile back I won an Ellie Krieger cookbook, The Food You Crave, from Pssst and YoPlus yogurt. It was a fun surprise in the mailbox, especially since I didn't know I had won anything. I love Food Network, so even though I didn't know who Ellie Krieger was, I was happy to have the book. I'm always interested in browsing new recipes.
I found this recipe for Jambalaya which I tweaked not only to feed a crowd, but also to make use of ingredients I had on hand. It was delicious, despite the fact that my kids didn't care for it. Ah well, such is life.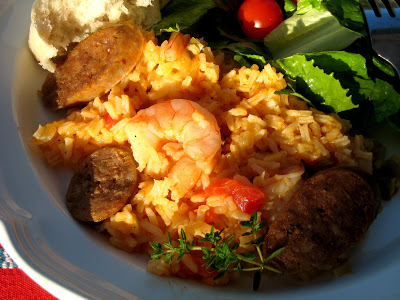 Here's my version, inspired by Ellie's:

Jambalaya with Shrimp and Italian Sausage
Serves 10-12; Costs approx $8
2 Tablespoons olive oil
1 large onion, chopped
3 bell peppers, red, yellow, and green, chopped
4 cloves garlic, minced
1 teaspoon salt
1/2 teaspoon pepper
2 teaspoons paprika
1/2 teaspoon fresh oregano
1/2 teaspoon fresh thyme
1 bay leaf
1/4-1/2 teaspoon cayenne
3 cups rice
6 cups chicken broth
3 large tomatoes, peeled and diced
1 package hot Italian sausage
1 1/2 pounds shrimp, peeled and deveined
In large pot, heat oil. Add onion, peppers, and garlic and saute about ten minutes, until tender and starting to brown. Stir in spices and rice. Cook another 2 minutes, stirring frequently to prevent scorching. Stir in broth and tomatoes. Bring to a boil. Cover and reduce to a simmer. Simmer for 20 minutes. Meanwhile, cook Italian sausages, according to package directions. When cooked through slice on an angle. When most of liquid in rice is absorbed, stir in shrimp, cover, and cook five more minutes or until shrimp is pink. Stir in sausage and serve.