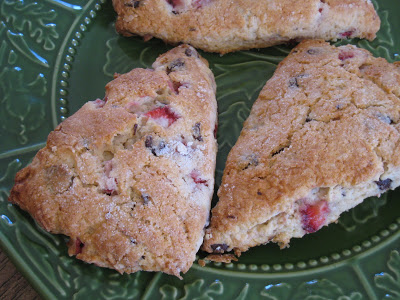 Necessity is the mother of invention, they say. That certainly is true in the kitchen when you've got fresh fruit in abundance. Strawberries were recently $0.69/pound in my neck of the woods, so I stocked up! I bought about 12 pounds. One way to use them was to create a scone that featured chopped berries. They were delcious!
Chocolate Strawberry Scones
a modified version of a classic scone recipe from Fine Cooking
2 cups unbleached flour
1/3 cup sugar
1 Tablespoon baking powder
1/2 teaspoon salt
6 Tablespoons butter, cut in chunks
1/2 cup chocolate chips
1/2 cup diced strawberries
2/3 cup heavy whipping cream
1 egg
sugar for sprinkling
Preheat oven to 400 F. In food processor bowl combine flour, sugar, baking powder and salt. Add butter and pulse until coarse crumbs are formed. (You can also do this in a large mixing bowl, using a pastry blender, two knives, or a fork to cut the butter in.)
Empty dry mixture into large bowl. Add chocolate chips and diced berries. Toss to combine. In now empty processor bowl add cream and egg. Blend well. Add wet mixture to dry and fold to combine, just until mixed.
Turn mixture out onto floured surface. Knead a few times. Pat dough into large circle about nine inches in diameter. Cut dough into eight wedges. Separate wedges and place on parchment- or silpat- lined baking mat. Sprinkle with sugar. Bake 18 to 20 minutes or until tester comes out clean.
You can also freeze the scones, baked or unbaked. Flash freeze and store in an airtight container in the freezer. If baking from frozen, increase baking time 5 minutes. Alternatively, bake and cool the scones and store them in an airtight container in the freezer.