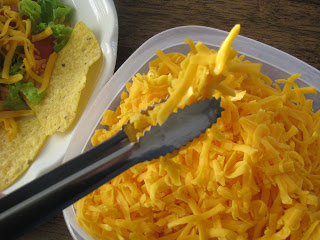 Years ago I received in my Christmas stocking a set of ice tongs, similar to these. They have changed our life. Well, sort of.
What may seem like an odd present is actually exactly what I wanted. Since we serve dinner buffet style so often, I was wanting an alternative to everyone's paws reaching into the cheese. Ice tongs were my husband's solution.
They worked so well we purchased several more pairs. And their uses have expanded beyond just serving cheese. Their small size makes them perfect for serving practically anything: chicken, sausage, cookies, salad, you name it. And I'm not so worried about picking up cooties at dinnertime.
"Cheese tongs" definitely work for me!