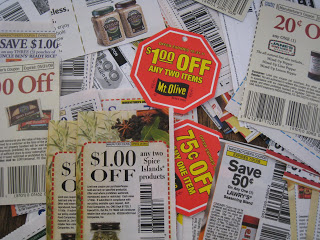 Coupon critics will say that they can't save money clipping coupons because
1 – it's all junk and convenience items
2 – the store brand is cheaper
3 – it's a waste of time
I know. I used to think this way as well. Two years ago, I spent $800/month to feed my family of 6 and a baby. I shopped the bargain brands and thought I was doing everything in my power to save money.
However, today after putting some money-saving techniques into practice, including using coupons, I spend on average $600/month to feed 7 people and a baby. We have more mouths to feed, but we're spending less. Have we sacrificed quality? I don't think so. In fact, I'm able to buy more organic and gourmet items on a regular basis. Am I a slave to coupons? Only when I want to be. I spend a few hours clipping and planning. But, we figured out that I'm getting paid about $25/hour for my work.
Couponing helps us eat well, act our wage, and enjoy life.
If you're interested in learning more, check out these posts:
Adventures in Couponing: 8 Great Ways to Find Coupons
Coupons: You Gotta Know How to Hold 'Em
Shop Listing
Meal Planning from the Sales
Don't forget to browse the offerings at Coupons.com to see what money saving coupons you can print and use.
Do you coupon? If not, why aren't you?