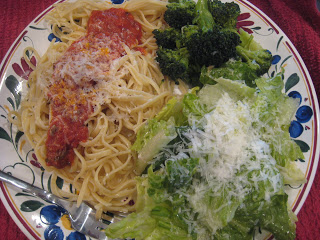 Tonight's dinner is a regular meal that keeps us under budget: pasta with red sauce, broccoli, salad, and garlic bread. This evening I added up what the meal cost us and I was astounded.
Pasta $0.75
Bertolli sauce in a pouch $0.50
scant amount fresh Parmesan $0.25
broccoli $0.50
romaine lettuce $0.50
French bread $.75
butter $0.25
red wine vinegar $0.10
dried basil, garlic powder and dried parsley $0.15
Grand total = $3.75 to feed seven people quite well. It was meatless, but no one minded. And the kids just gobbled it down.
What's a favorite budget meal of yours?
Don't forget to visit the $5 Dinner Challenge for menus under five bucks.