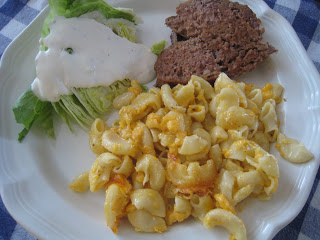 I'd heard of serving mac and cheese with meatloaf, but I'd never done it. So recently we tried that traditional combination and we loved it!
I made my typical mac and cheese. So easy and cheap. And then I took this recipe for meatballs and shaped it into a loaf. I baked it for 30 minutes to an hour alongside the mac and cheese. For a classic side dish, I made a wedge salad: a wedge of iceberg lettuce with a drizzle or two of blue cheese dressing. Yummy!
The best part of this meal was that it was good and cheap! Here's my cost breakdown:
iceberg $0.50
dressing $0.50
ground beef $1.25
bread crumbs (free from leftover bread)
onion $0.25
eggs $0.40
spices $0.25
macaroni $0.75/2#
sour cream $1
cheddar cheese $1
Total $6.15 to feed seven of us. That is one good. cheap. eat!
(Check out $5Dinners for more ideas!)