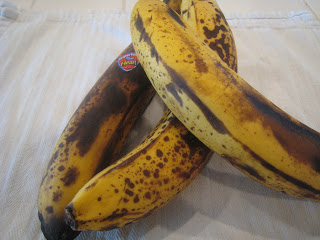 What do we do with them today?
Well, you certainly don't want to throw them away. That is not a cheap eat. That's waste.
The obvious answer is to bake them into banana bread or muffins. But, you may not have time for homebaking when your bananas are ripening too fast. Instead, you have a couple storage options.
1. Place them in a plastic bag in the refrigerator. This will slow down the enzyme action that would lead to decay. They will continue to ripen, just more slowly. They'll turn brown, but they'll be okay — as long as they're not oozy or fuzzy. In fact, they will actually deepen in flavor, great for baking.
2. For longer storage, peel them and wrap each one in plastic wrap. Then place them in a ziptop bag, label and freeze. Simply thaw briefly before using in baked goods or use them as is for milk shakes and smoothies.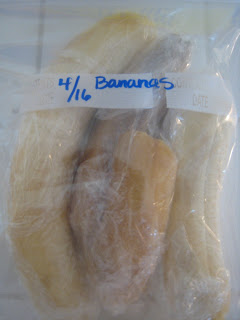 For more frugal ideas, visit LifeasMOM every Friday.