Want to entertain easily and effortlessly? Or just wind-down with a fun little app for the fam? Check out these easy, make-ahead appetizers.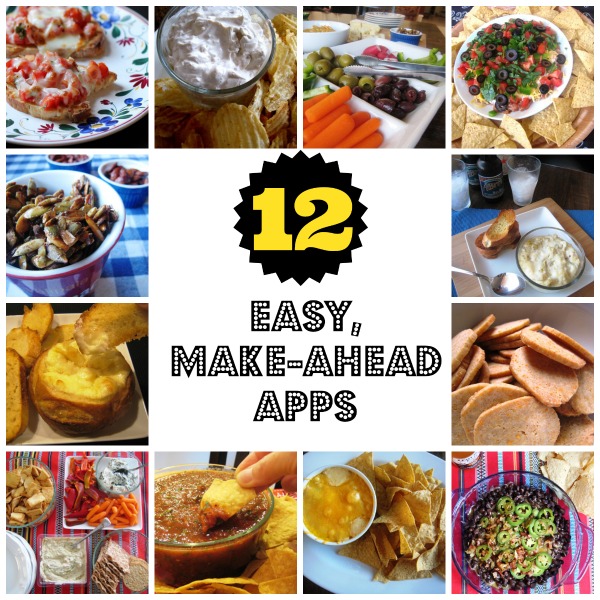 The weekend approacheth! That means time to tone down the activity — at least a little — and get ready for some relaxation and/or socializing.
I've been working like a fiend this week trying to catch up from two back-to-back weekends of doings. The kids and I continue to do school each day (mostly math and literature) as well as trying to work in a field trip of some kind on a weekly basis. Last week was the beach, this week was the art museum, next week is the beach. I see a pattern forming, don't you?
I'll probably still be working come Saturday, but it's always fun to wind down with my main squeeze over a glass of something yummy (and adult) and some munchies. The kids typically clamor for a tasty drink that suits their tastes — and age, so we've taken to making lots of lemonade or this Lime-Mint Cooler.
My friend Amy is coming on Sunday for about 24 hours on the tail end of a conference before she has to head home. Yay! I'm so thrilled she squeezed a visit with the FishFam into her trip. She's bringing wine with her. 😉 And I'm guessing that the Wine4Me app can find us great matches for all these appetizers.
No matter your drink preference, you and your crowd will love these appetizers I've rounded up. They are easy to make and easy on the wallet. Depending on what you pair them with, they can also be super duper healthy. They can be made in advance and chilled so that you are ready to party when the party is. And did I mention that they are super duper yummy?
Great. Now I'm hungry….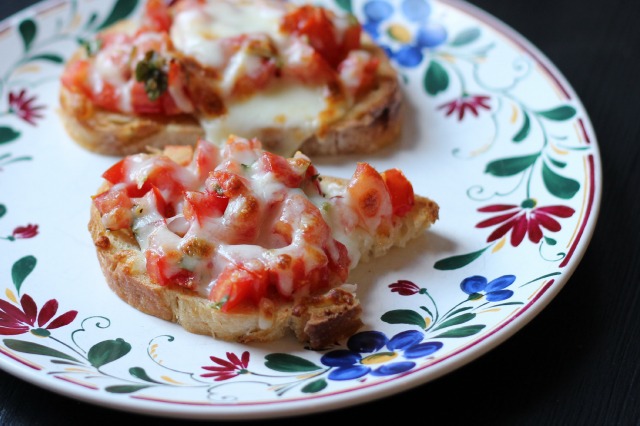 This homemade salsa made with canned tomatoes, garlic, green onions, cilantro, lime, and jalapenos comes together in just moments.
I've taken the traditional 7-Layer Dip made with processed ingredients and given it a make-over. It's healthier but still easy to make!
Bruschetta made with prime summer tomatoes is absolutely out of this world. Put your feet up and enjoy this easy appetizer that can be made in advance and quickly prepped under the broiler.
If you like brie and bread, you'll love this recipe. The ingredient list is short, and you can eat the bowl!
Skip the package dip mix and stir up your own. Easy and delicious!
If you like Jalapeno Poppers but don't care for the price, try this recipe for Jalapeno Popper Nachos. It has all the great flavor but at a much lower cost.
Asiago cheese, artichokes, and diced green chiles combine in a hot and bubbly dip that is perfect when paired with crisp toasts.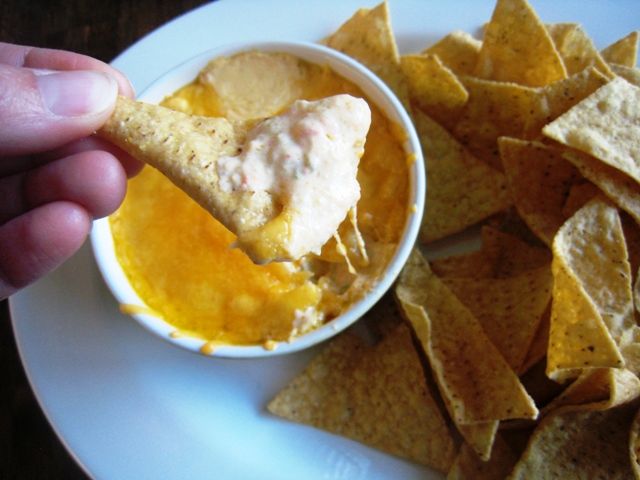 Hot and spicy, this cheese dip is delicious. If you have any leftover, it can be used as the filling for Jalapeno Poppers.
An appetizer classic. Fill your tray with your family's favorites and everyone will be happy.
You can make your own crackers. These cheddar coins are a crisp, salty, cheddary cracker that smacks of the "I-could-eat-the-whole-box-but-they're-so-bad-for-you-Cheez-It."
Enjoy this healthier take on the classic spinach dip made from scratch with herbs, spices, and fresh ingredients.
Whip up a batch of these sweet & spicy pepitas and almonds to serve at your next get-together. They make a great addition to the appetizer table.
What's a favorite appetizer of YOURS?