Wondering how you can save money on groceries? Consider these ten simple steps you can take to lower your grocery bill and still eat well.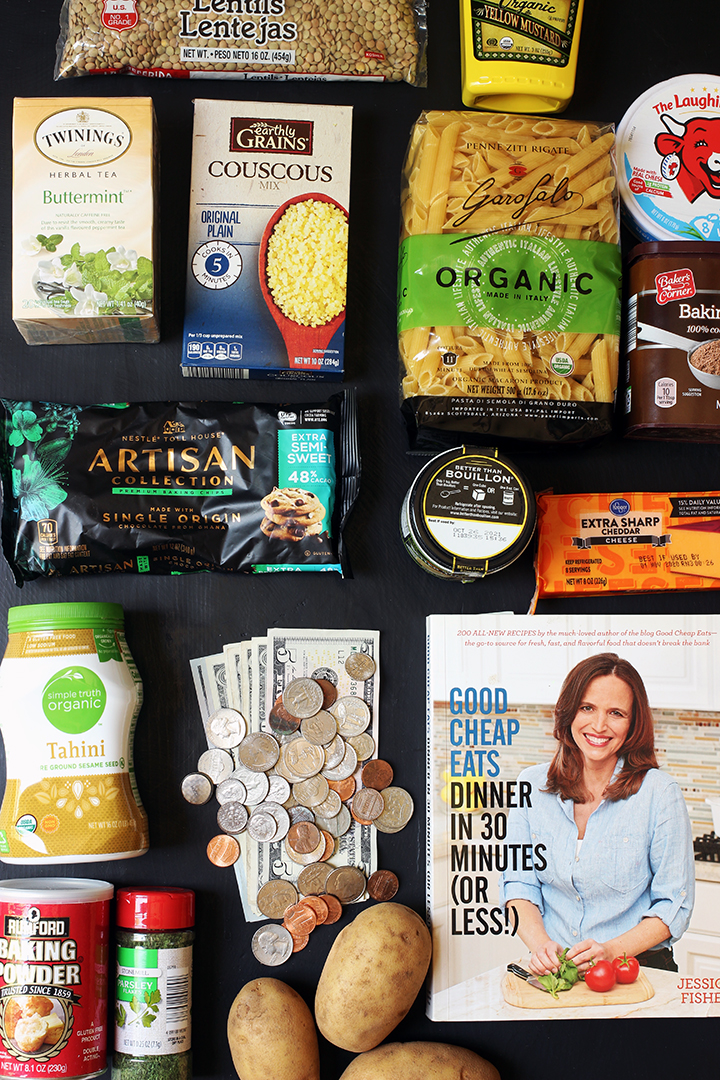 There come seasons when you need to cut back on expenses. Maybe you're expanding your family and need to build a nest egg. Perhaps you're changing careers and anticipate a loss of income. Or maybe you just want to save more for a rainy day.
But ya still gotta eat.
How can you allot for added/changed expenses and still eat well? The solution is found in your grocery cart.
10 Simple Ways to Save Money on Groceries Right Now
One of our most fluid expenses each month is what we spend on food. I mean, food can defined as lobster or lentils. There's a wide gap there in price and therefore a lot of wiggle room when it comes to spending your grocery dollar.
How you choose to spend your grocery dollar can free up funds for other expenses. Here are ten simple ways that you can save money on groceries.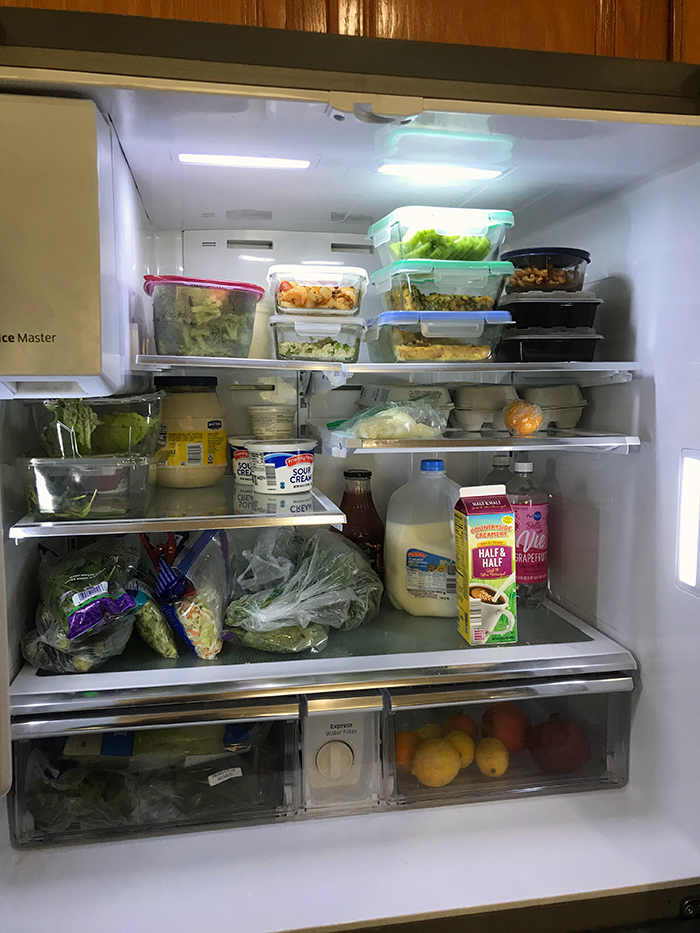 1. Take an inventory of what you have.
This is the number one rule of saving money on anything: shop your house first! Many of us have on hand things that we can use but that we have forgotten about. Whether it's an extra bottle of shampoo or two bags of flour in the back of the cupboard, it pays to know what you have.
Take an inventory of what you have before you go shopping so that you don't buy more than you need. If you've got a full cupboard already, do a pantry challenge to use up what you have before it goes bad.
2. Choose your store wisely.
It's all well and good to buy fresh, whole ingredients and to cook your food at home. However, sourcing can make a huge difference in your bottom line. Higher end grocery stores, while they do have good sales, will charge you a lot more on their main offerings.
Choose a store or stores where you know you will get best pricing for the things you normally buy.
In my neck of the woods, this is ALDI, Costco, and Ralphs. I know this because I did a price comparison of the top 20 items I was buying most frequently and compared prices across these stores as well as Trader Joe's and Walmart. Your mileage may differ, but my Walmart's pricing was not at all competitive.
Crunch some numbers and see if you might not save a chunk of change by shopping more strategically.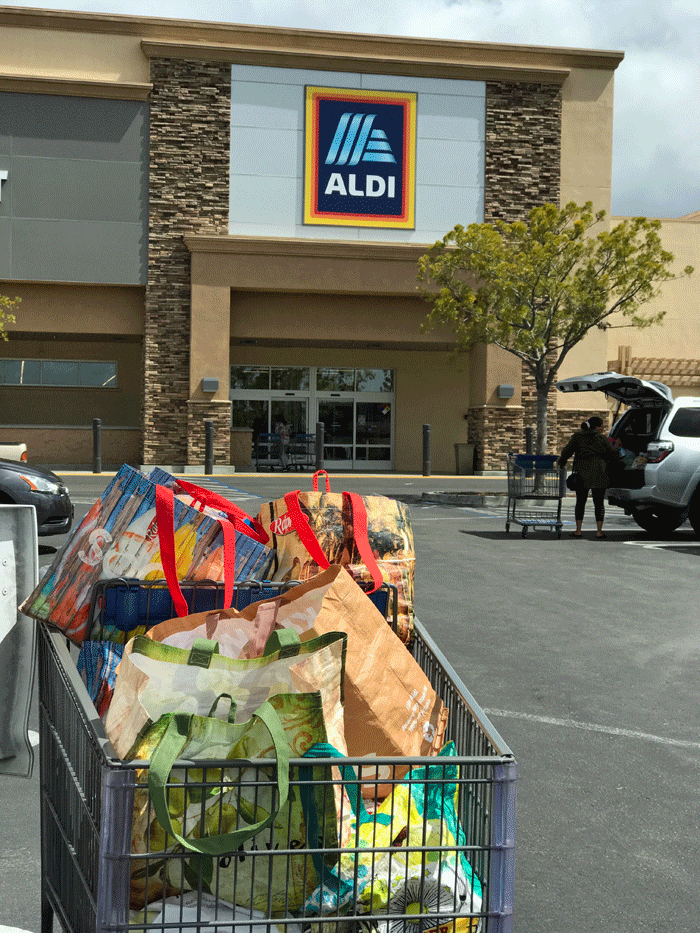 3. Shop the sales.
While it's fun to buy what you want when you want it, it's not always conducive to saving money on groceries. Instead, buy what's on sale!
I used to spend a pretty penny when I let my tummy be my guide. Now, I scan the grocery sales ads and plan meals to match the sales. I buy a few extras to stash in the freezer, stocking up for a future date, thereby allowing myself to have what I want when I want it, sometimes.
4. Check the clearance rack.
Shopping the clearance rack or specially marked manager's specials is a great way to cut your grocery bill. It will surprise you what the store wants to unload.
Often it's not going bad anytime soon. Instead it's got holiday packaging, or the store just has too much. Recently, we got Talenti gelato in Pumpkin Pie flavor (in March!) for a quarter and Siggi's expensive yogurt for $0.19. These items were perfectly fresh; the store just wanted to move them quickly.
You can definitely stretch your grocery dollar by buying what the store want to get rid of quickly. Just be sure to check "best by" dates and to use the item up in the recommended time frame for best taste and texture.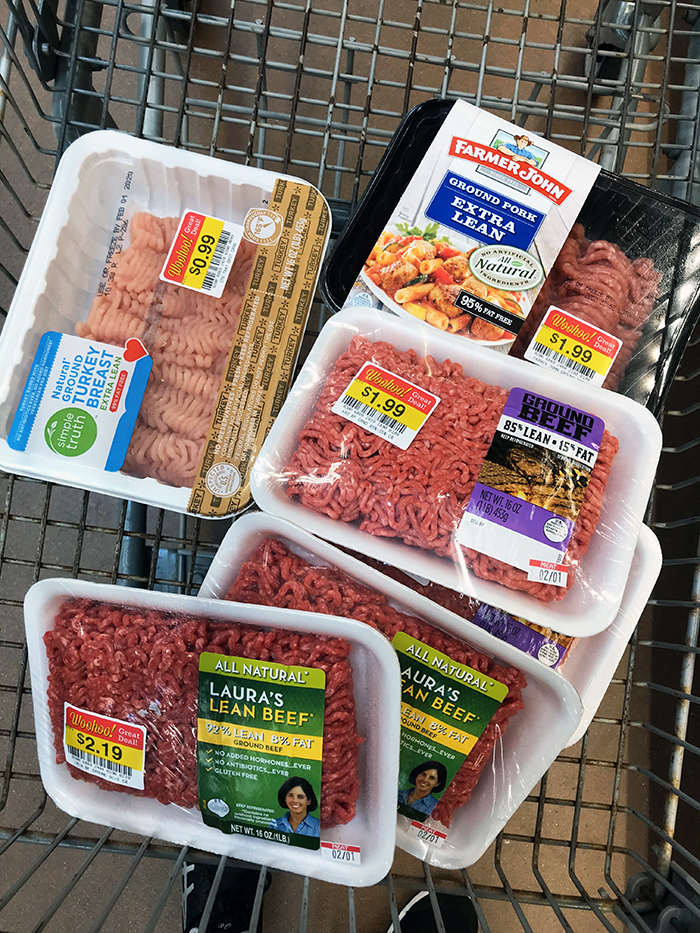 Buying meat that has been marked down is a great way to save money on proteins. Check the "best by" dates and be sure to use the meat or freeze it before then.
5. Plan your meals around what you have and what's on sale.
By planning your meals around what you have and what's on sale, you make sure that you put your resources to good use. Use it or lose, ya know?
Create a grocery list of needed items and keep your shopping bill low.
6. Audit yourself and you'll save money on groceries.
If you forget something, you'll be tempted to go back to the store, and likely buy more than you need while you're at it. Be sure to scan your list before you check out so you make sure you leave with all the things you need.
That said, give the cart another scan. Do you really need that bag of chips or that extra carton of ice cream? You can put unneeded items back and save some money.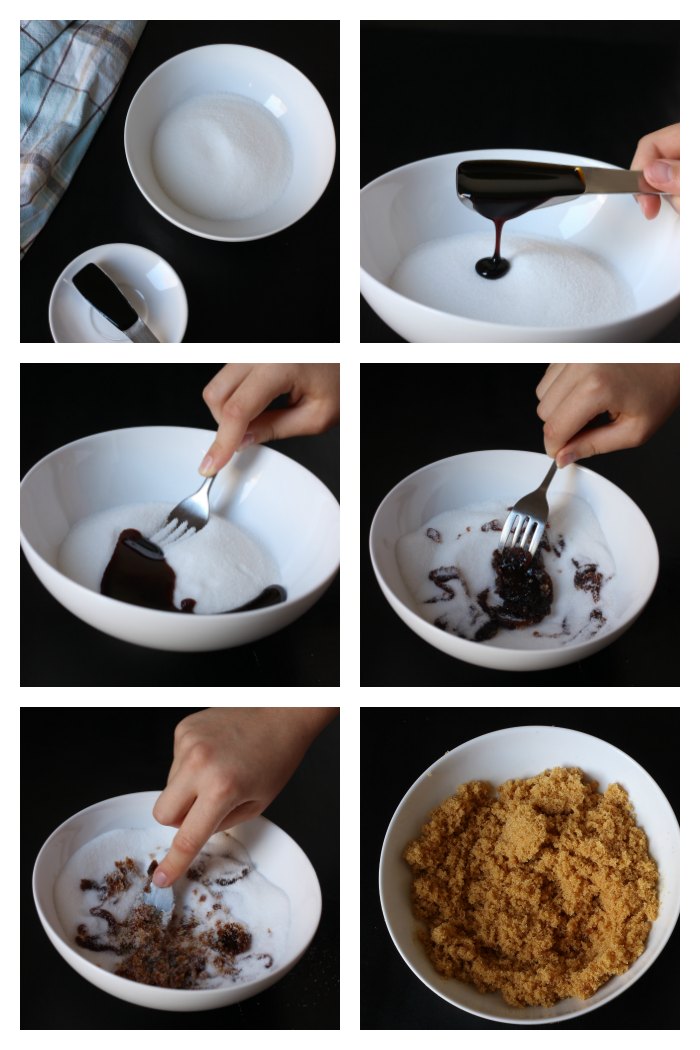 7. Make do/go without.
About to make a recipe and find out you are missing one ingredient? You could go to the store and buy it, but then you'll spend more time and money — and risk buying other things you might not need while you're there.
Chances are you can find a substitution for a needed ingredient with what you already have at home. There are all kinds of baking substitutions and pantry staples you can make yourself; you can even make your own brown sugar!
8. Focus on inexpensive ingredients.
While it's nice to enjoy a nice steak dinner and a glass of wine, these aren't necessities to life. No, really.
In order to really save money on groceries, make peace with economical meals — they're just as tasty! Food doesn't have to be expensive to taste great. With a little creativity, you can make the most humble meals taste and feel elegant.
Check out these naturally economical meals:

9. Make it yourself.
You can save money if you make things yourself. You can make homemade convenience foods for a lot less than you would pay at the store.
Likewise, consider something as simple as sliced bread. A decent loaf of bread costs $3 to 6. You can bake your own bread for about $1/loaf!
Even a fancy meal like Shrimp Pasta with Garlic Cream Sauce is less than half the price of eating out!
Making your favorite foods yourself can save you a lot of money.
10. Use up leftovers to save money on groceries.
This list starts with using what you have and ends with using what you have.
If you don't already, learn to like leftovers. By avoiding food waste, you save money on groceries as well as the effort you spent to buy it and prepare it.
You can enjoy leftovers reheated or discover that there are plenty of great meals that start with leftovers and become something new.
Start saving today.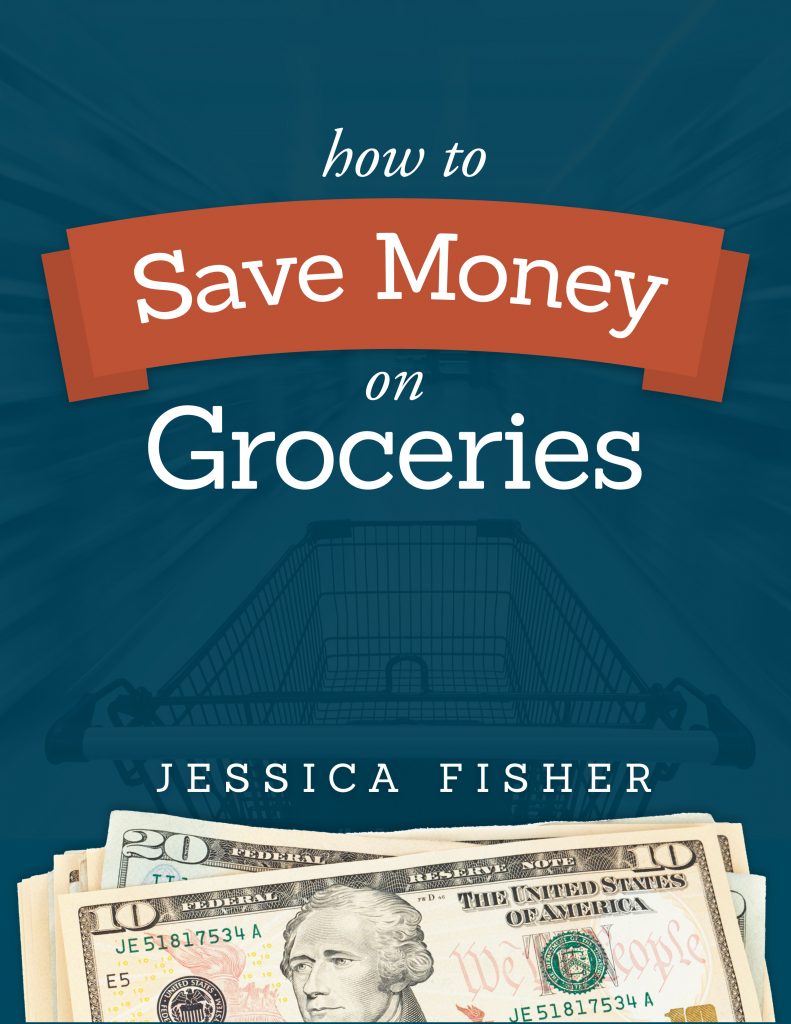 How to Save Money on Groceries is a quick and easy read designed to unpack the Good Cheap Eats System quickly and easily so you can get to saving instead of having to think about it.
With this resource you will:
learn to audit your grocery spending
determine a budget that's just right for you
identify areas where you can splurge in exchange for paring back in other areas
choose the right store to shop at for the best prices
understand the steps to planning and grocery shopping that will help you eat well and save money
You can buy the book on its own or if you join the Good Cheap Eats Club in June, you'll get the book for FREE.
Either way, you're guaranteed to make back your money in grocery savings. No coupons required.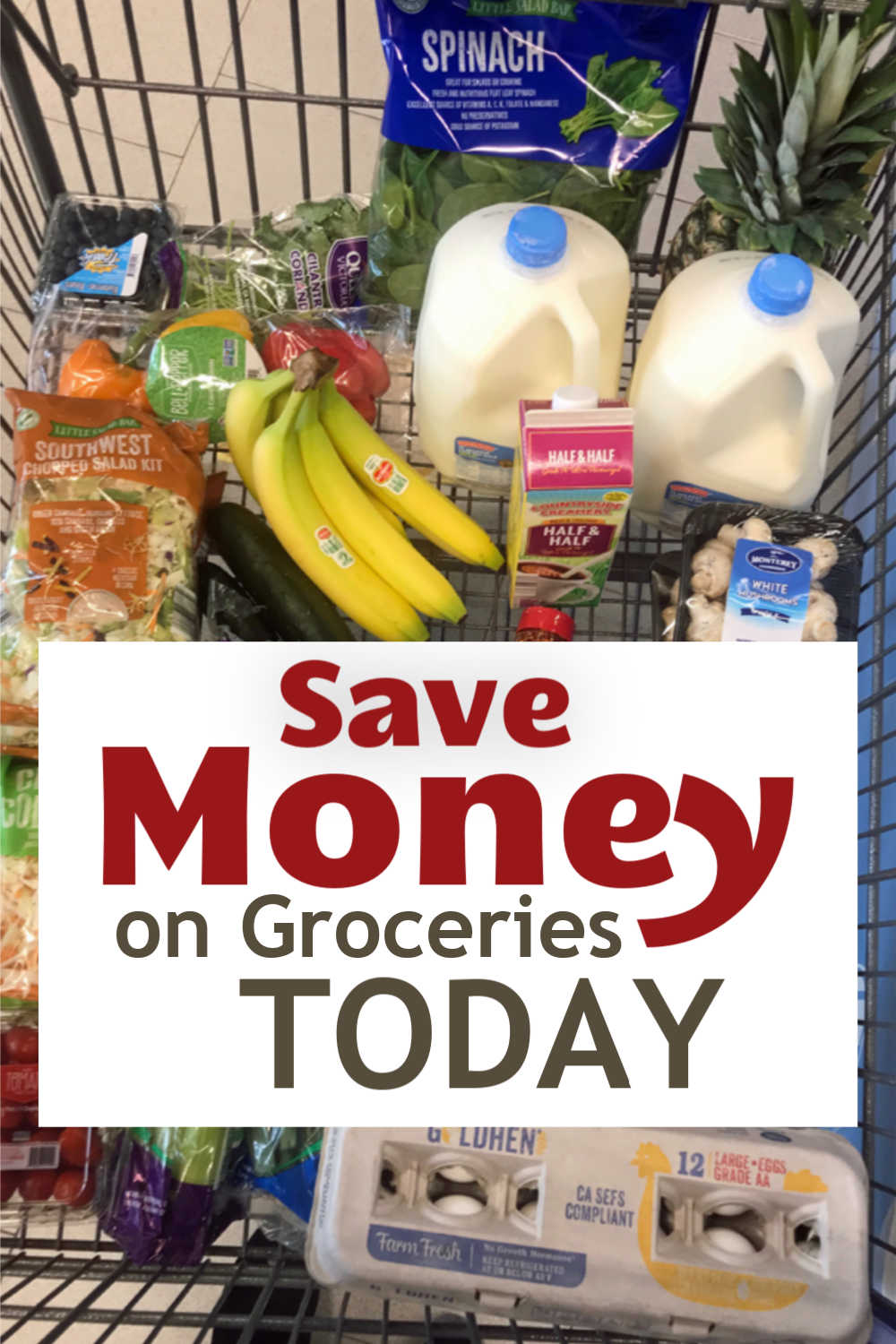 This post was originally published on April 15, 2015. It has been updated for content and clarity.