Here's a peek into my kitchen and all its problems. I hope you've got some good solutions to my kitchen dilemmas.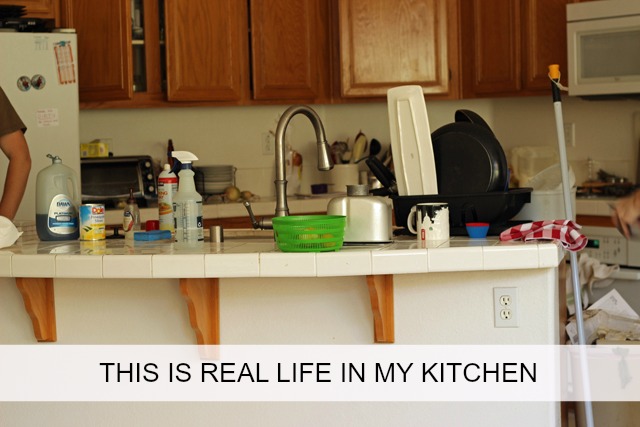 Growing up I thought that the only spotless kitchens were those you saw on television. I didn't realize until I was in junior high or high school that other people had really clean kitchens. I'm not sure that all those families did much cooking in their kitchens, but their kitchens were showrooms, nonetheless.
There's a lot of cooking done in my kitchen. Whether it's me or one of my family members or many of us at one time, there's almost always some food prep going on in our kitchen. Also some messes. I'd like to change the latter. I'd like one of those pristine kitchens: a well-used, but also tidy, space.
After cooking in some pretty tiny kitchens in France this fall, I came home with a new appreciation for the ginormous space I have for cooking. But, I also realized that it needs some improvements.
I tend to stay away from kitchen stores and magazines because I want to be content with what I have. Looking at "bigger and better" doesn't help me do that. Improving how I care for what I do have does.
However, sometimes a girl needs a little help. Since I can't have you all over for coffee, though that would be quite fun, I thought we could chat about some of my problem areas. Maybe you struggle in the same way? Or maybe you'll have a great solution. [Continue reading…]