Got leftover cooked chicken and rice? Then you've got the makings of a great meal.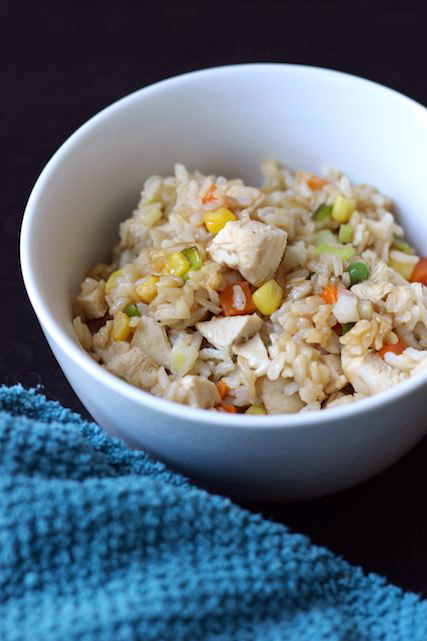 Since my youngest daughter was officially diagnosed (through extensive testing) with a peanut and walnut allergy, our Chinese takeout experiences have dwindled. To nothing. It's probably a good thing. I never read the ingredients list for a Panda Feast, but I'm guessing it probably wasn't much that I could actually put in a shopping cart.
So, I've been experimenting. My kids aren't super impressed – yet. But they will be. Someday.
One thing that I am pleased with is my Fried Rice. My kids were a bit confused the first time I made it. It was perfectly authentic, complete with the scrambled egg. But since we've never ordered fried rice at an Asian restaurant, they didn't know what to make of it. They politely asked me to omit the egg in the future. Ha!
Anyway, this is a dish that I'm made many times over the last few months. It's a great way to use up leftover cooked meats and any cold, cooked rice you have on hand. It has to be cold rice, otherwise it won't work. This last batch I made with a mixture of both brown and white rice. Obviously, it will seem more like Lui's Kitchen if you use long-grain white rice, but it'll be more whole-grainy if you use brown. Choose your poison.
The ultimate beauty of this recipe is that it comes together in less than 30 minutes. [Continue reading...]