Dejunking your kitchen can make it more fun to cook in as well as prettier to look at.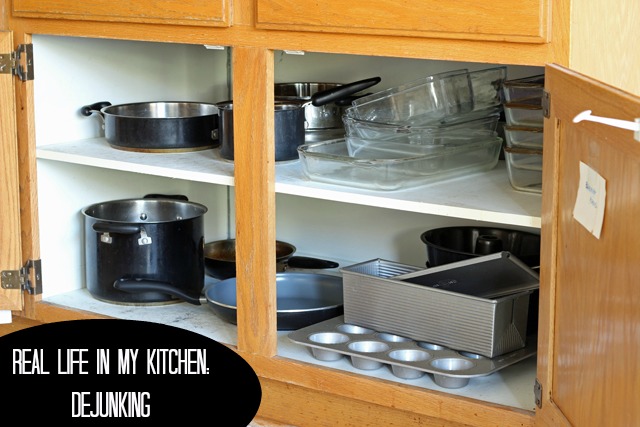 A few weeks ago, I bared all. Or at least, bared my kitchen in real life for you. You had some excellent suggestions, some of which I was able to implement right away, some of which make me feel wonderful.
The biggest most immediate change was when I emptied by pots and pans cupboard and discarded the pieces I didn't love or couldn't live without. No, I don't need to keep the Paula Deen pie plate when I don't like and I have FOUR other pie plates besides.
Freedom, I tell ya. Freedom.
That is the pots and pans cupboard now. I didn't get rid of duplicates. I have three 9×13 Pyrex pans but sometimes they are all in use. But, I did get rid of a nonstick one that I don't love. The muffin pans that stick? Why should they take up space when I have USA pans that I love?
Here's what I got rid of that very day when ya'll were breathing down my neck in the comments section: [Continue reading…]