Enjoy a naturally sweet treat in these chocolate cupcakes with honey cream cheese frosting.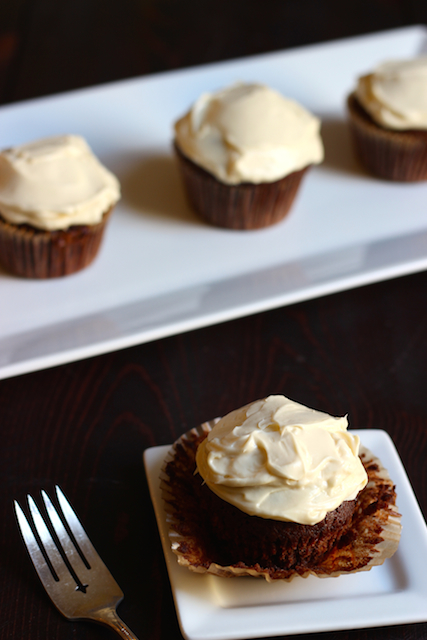 This recipe was born out of a craving for brownies. A few weeks ago in anticipation of a trip to Legoland, I baked my traditional Cocoa Brownies using maple syrup for the sugar. I figured the texture would be the same, but the flavor would be changed.
Boy was I surprised! There was no noticeable maple flavor, but the texture was definitely different. I baked it into a 9×13-inch pan and it tasted very much like a rich, dense cake. A friend and I agreed that it was similar to the taste of a Ding Dong, only good. We also thought it might be good with some frosting.
My Easy Chocolate Buttercream was out of the question since it has loads of powdered sugar, so it was a choice between Whipped Cream or cream cheese. I went for the cream cheese and I'm so glad I did!
We've had these cakes multiple times now. There are never leftovers and the kids have no complaints.
Keep in mind that these are not overly sweet. They have great chocolate flavor, though. The cream cheese frosting adds a bit of extra sweetness and moisture. Love them! [Continue reading...]