Grocery budgets are tight. How can you trim the bill?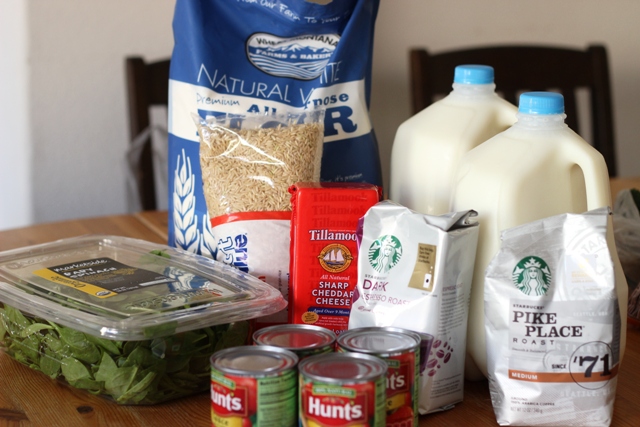 Sarah wrote in with the following dilemma:
I currently live in a four person household (five if you count my dog). I am the only female, I live with three males, my husband and two sons (age 8 and 11).

I have currently whittled my budget down to 200 dollars every two weeks but that DOES NOT count additional stops for bananas (every two days we go through three bunches), milk or bread. I often double or sometimes triple meals and I am lucky if I have enough to put together one lunch for my husband the next day. I stretch with vegetables or pasta wherever I can (or you know the odds and ends that can stretch a meal out if you get real creative).

I find that the bigger meals (and the fact that they seem to be ALWAYS EATING) really busts my budget. I also bake often (five out of seven days a week) and make double or triple batches of pancakes, french toast, baked eggs that I can rewarm and fill in with smoothies or salads. I can't crock soup anymore because it's just too hot and really not soup weather.

Both my husband and I work full time and my paycheck alone is what pays for us to eat. How can I whittle it down even more and still have healthy meals that fill them? Or am I expecting too much? Please can you help me?
What a great question! This is a challenge that I think many of us have faced or are currently facing. In a nutshell: your family consumes more food than you are prepared to purchase.
So, let's look at this methodically: [Continue reading...]