Make a quick fix dinner of sausages and potatoes topped with an herbed sour cream sauce. The recipe is super versatile, allowing you to mix up the herbs with what you have on hand.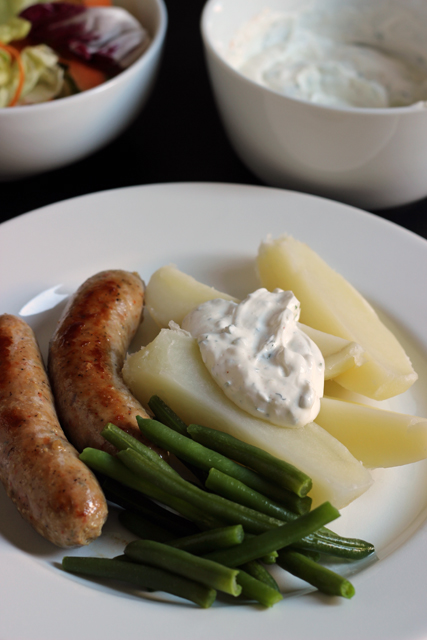 Our month in France was pretty fabulous. I finally finished posting the story of our European vacation, and I'm dying to go back. We had some great adventures as a family — and ate some fabulous meals.
Since we had access to a kitchen for almost all our time in France, I got to go shopping frequently in french grocery stores and figure out how to make food I knew my kids would eat. While they did expand their horizons, there were requests for burritos and burgers from time to time.
One of the items most frequently in my grocery basket were chipolatas. Similar to an Italian sausage in flavor yet the shape of breakfast links, we enjoyed these sausages often in Collioure and in Paris, usually with boiled potatoes and a salad.
When we had lunch with the Benoits, Jen prepared a beautiful feast for us with grilled chicken, sausage, and potatoes. She added this delicious sauce on the side. I've been quizzing her from afar so that I could add it to my own repertoire. [Continue reading…]