Make pizza night easier and quicker than a run for takeout with this five-ingredient recipe.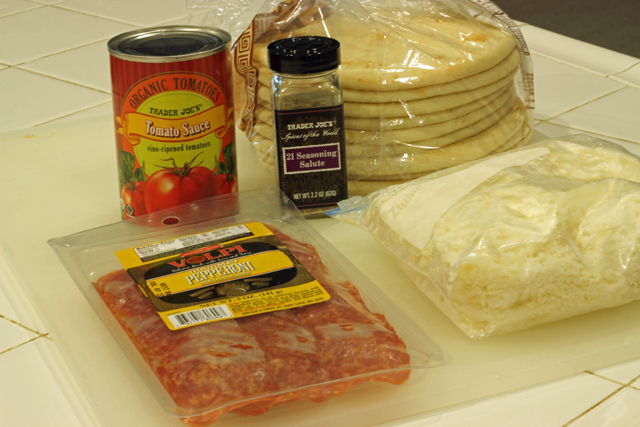 We have pizza about once a week. It's one of our family's favorite "fun foods" and a great way for us to enter the weekend. While I usually make the pizza dough from scratch, there are some days when I just don't wanna.
Instead of buying take-out or frozen pizza, I've found a wonderful alternative that works very well for us and one that only calls for five ingredients. While I sourced the items pictured from three separate stores, you could easily buy it all at Trader Joe's. Pita breads stand in for crust, and the sauce is a mashup of canned tomato sauce and a seasoning blend.
I set this recipe up as a pizza bar. My kids have varying ideas of what constitutes "enough" toppings. Since the pitas are rather personal size, they can make their own without any trouble.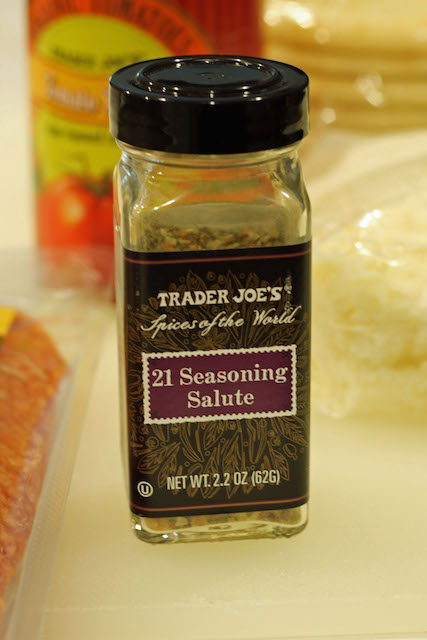 This stuff, Trader Joe's 21 Seasoning Salute, is pretty magical. The ingredients list is very similar to my recipe for Jamie's Spice Mix. If you don't do TJ's, just mix up a batch of Jamie's Spice Mix. I've done it both ways and love it. The prepackaged seasoning is just a nice little shortcut when you have a bad case of I just don't wanna.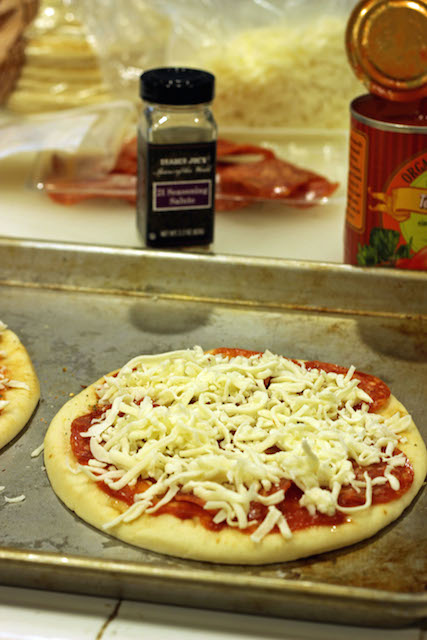 Prepping this meal takes less than 30 minutes from start to finish. It's almost like getting take-out, but it tastes better and you don't have to get into the car. Simple layer on the toppings and bake. Easy pizza.
Recipe: 5-Ingredient Pizza
Ingredients
10 pita breads
15-ounce can tomato sauce
Trader Joe's 21 Seasoning Salute or a batch of Jamie's Spice Mix
1 pound mozzarella cheese
one 5-ounce package pepperoni
Instructions
Preheat the oven to 475.
Lay the pita breads out on baking sheets. Spread tomato sauce, to taste, over each round. Season to taste with the seasoning mix. Sprinkle on cheese and pepperoni as desired.
Bake for 8 minutes or until the crust is crisp and the cheese is melted and browned in spots.
Serve immediately.
Preparation time: 10 minute(s)
Cooking time: 8 minute(s)
Number of servings (yield): 10