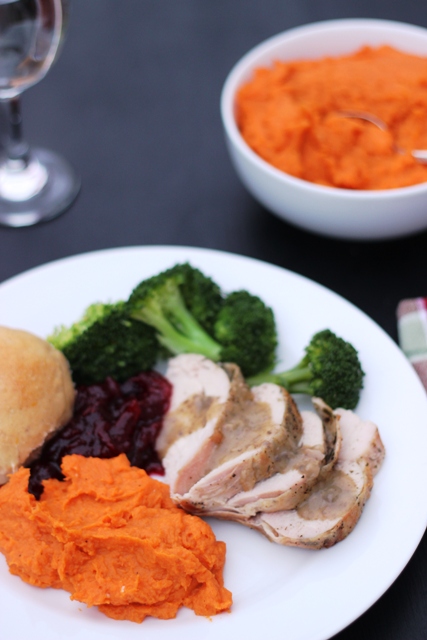 When I was growing up, Thanksgiving suppers were pretty much the same every year. The meal included the following:
Roast Turkey
Canned Gravy
Smashed Potatoes (I never knew whipped potatoes; ours always had lumps; I thought that was normal)
Mrs. Cubbison's Stuffing
Cold Dilled Green Beans
Baked Beans
Dinner Rolls
Sweet potatoes and Green Bean Casserole never made the list. I have no idea why. Ask my parents.
When I turned 16 years old, I started working at Lucky Stores. I bagged people's groceries. By doing so, I learned about what other folks served on Thanksgiving. When I saw canned yams and mini marshmallows come down the line, I was a little grossed out honestly.
In the immortal words of Alfred Linguine of Ratatouille, "That does not sound delicious."
It wasn't until I was a grown adult with children that I tasted my first sweet potato. A friend brought me a pot roast after a miscarriage. There were potatoes and sweet potatoes and carrots on the side. It was delicious. Since then, I've come to love sweet potatoes — as long as they are prepared with a savory slant.
You can keep your mini marshmallows.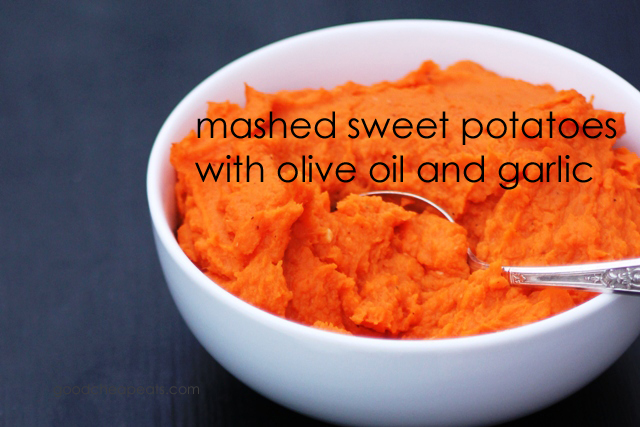 These Mashed Sweet Potatoes, on the other hand, are delicious. Seasoned with a bit of olive oil and garlic, they bring a little sweet to the holiday table which makes a nice foil for the other flavors on the plate. An added plus is that they would be considered vegan as well as paleo-friendly, giving your dinner guests options without too much effort.
Plus, I've heard that orange is really IN this year.
Recipe: Mashed Sweet Potatoes with Olive Oil and Garlic
Ingredients
3 pounds sweet potatoes, peeled and sliced 1/2-inch thick
4 cloves garlic, peeled
1 tablespoon olive oil
1 teaspoon kosher salt
1/2 teaspoon paprika
1/4 teaspoon freshly ground black pepper
Instructions
In a pot of salted water, boil the sweet potatoes and garlic until the potatoes are tender. Drain the water.
With a potato mashed, mash the potatoes and garlic until very smooth. You can also use an immersion blender or beaters for this.
Stir in the olive oil, salt, paprika, and pepper.
Serve hot.
To freeze: store cooled potatoes in an airtight container and store in the freezer, for up to 2 months.
Preparation time: 10 minute(s)
Cooking time: 30 minute(s)
Number of servings (yield): 6