This week I'm spending a few hours every day to fill the freezer. By spreading it out over several days, I avoid overtiring. And our week is just too full to leave it all for one big cooking session.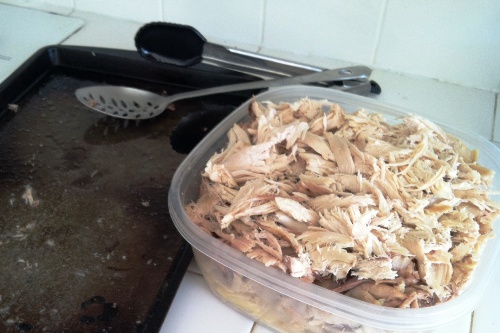 On Sunday I pulled two whole chickens and a pork roast from the freezer to thaw and then to cook up and use in casseroles, sandwiches, and other freezer meals. Last night I started the chickens in my slow cookers. I've been cooking roasts and birds this way for years.
While it is a little weird to wake up to the smell of cooked chicken or beef, it is nice to have something accomplished before I even wake up!
Plus, starting the day with cooked meat, I can spend the next few hours assembling meals with that meat. No more burning the midnight oil, waiting for meat and cassseroles to cool before I put them in the refrigerator.
This morning when I woke, I had two chickens to debone and shred the meat. I ended up with 14 cups of chicken! This ended up going into Chicken Bacon Subs, Chicken Divan with Cheddar Crust (cookbook recipe), Creamy Chicken Enchiladas (cookbook recipe) and Chicken and Onion Wraps (cookbook recipe).
Sorry for teasing you with all those cookbook recipes. It wasn't intentional. Those recipes just sounded really good to me this month.
Use your slow cooker overnight to give yourself a great headstart on freezer cooking.