With it sweet crumb top, tart cranberries, and rich chocolate, this snack cake will disappear in a flash.
My family loves cake. More than pie. Yeah, they're weird. I'd much rather have pie.
But, this cake might sway me. A sweet crumb top forms a bed for fresh cranberries and chocolate chips. Delicious! Perfect for an afterschool snack, dessert with coffee, or a decadent addition to breakfast or brunch.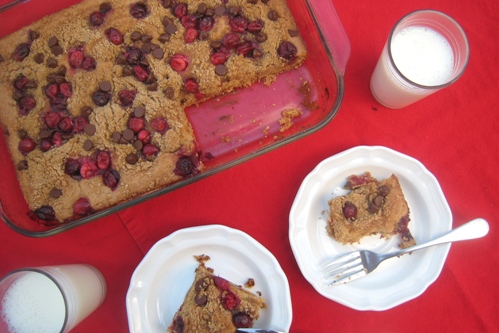 Recipe: Cranberry Chocolate Snack Cake
Ingredients
2 cups all-purpose unbleached flour (I actually used white whole wheat for this batch)
2 cups brown sugar
1/2 cup butter, softened
3/4 cup milk
1 egg
1 teaspoon vanilla
1 teaspoon orange zest
1 teaspoon baking powder
1/2 teaspoon salt
1 cup fresh cranberries
1/4 cup chocolate chips
Instructions
Preheat the oven to 350°. Grease a 9×13-inch baking dish.
In the bowl of a food processor, combine the flours, brown sugar, and butter. Pulse until coarse crumbs form.
Remove 1 cup mixture and set it aside.
Add the milk, egg, vanilla, orange zest, baking powder, and salt to the remaining flour mixture. Blend until smooth.
Pour the batter into the prepared pan. Sprinkle the reserved crumb mixture over the batter. Sprinkle the cranberries and chocolate chips over the crumb mixture. Bake the coffeecake for 35 to 40 minutes or until a tester comes out clean.
Preparation time: 15 minute(s)
Cooking time: 40 minute(s)
Number of servings (yield): 8