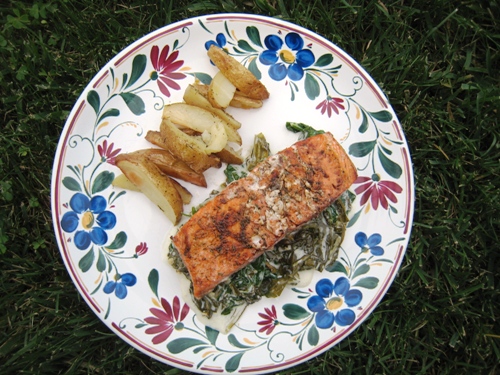 It rained all day here. And I thought about grilling fish. But, no, it rained all day! And while we have even attempted to grill in the snow, I was not about to get sopping wet for a fish. Dead or alive.
But, the next time I do… we're making this:
Recipe: Spicy Fish Rub
Ingredients
1 teaspoon garlic powder
1 teaspoon salt
1/2 teaspoon paprika
1/2 teaspoon dried dill
1/2 teaspoon dried thyme
1/2 teaspoon ground ginger
1/8 teaspoon cayenne pepper
1/8 teaspoon freshly ground black pepper
Instructions
In a small bowl, combine all the ingredients. Store in an airtight container in the cupboard or freezer.
To serve: Brush fish steaks or fillets with grape seed oil. Sprinkle a generous amount of seasoning on the fish and rub it in. Cook the fish over a hot grill until it begins to flake.
Serve immediately.
Preparation time: 5 minute(s)
Cooking time: 10 minute(s)
Number of servings (yield): 6
What's on YOUR plate?
What's on Your Plate? is designed to be a conversation amongst good eaters.
Tell us about a recent meal. Did it meet with rave reviews? Or did it bomb? What side dishes did you pair with the star of the show? Did you try a new ingredient? Find the groceries at great prices?
What's on YOUR Plate?
Share with us a recent meal you prepared. Either link it up below or tell us about it in the comments. Please make sure that you link to www.goodcheapeats.com in your post so others know where the dinner party is.
And don't forget to visit the other good eaters participating today. I'm sure you will be inspired to make all sorts of Good Cheap Eats at your house.