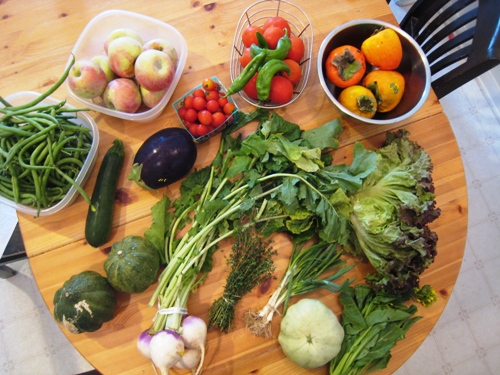 This whole produce box thing is really giving me a workout. And I don't mean just lugging it from car to kitchen. I have met some vegetables and fruits in real life that I never knew existed!
Well, I take that back. I knew they existed. But, not in my kitchen. Sorrel? Yu choy? Turnips? I can only hope that all these freaky foods I'm feeding my family are really, really good for us. One can always hope.
Honestly, though, I've had more trouble getting a particular 7-year old to choke down a cooked carrot, something I've been serving him for 6 years, at least. One night he ate turnip greens and yu choy without batting an eye, but tried to escape the table before finishing his corn and rice. Imagine that!
I just can't win.
And soup night continues to be a bit of a battle. But, I'm marching on. Recently, I snuck in a turnip, cherry tomatoes, and green beans into this soup chock full of cheese tortellini and mild Italian sausage. There was none left, but one bowlful to send to work with hubs the next day.
I guess I can win. I just can't predict when that will be!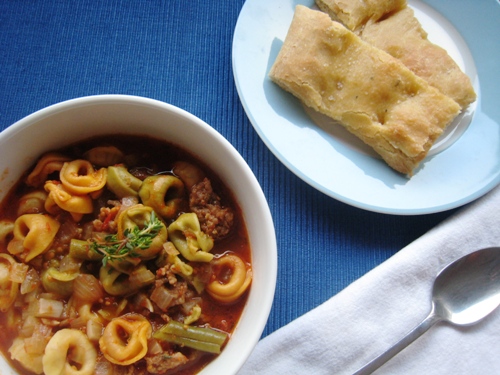 I used cherry tomatoes because we had a lot of them and only a few of us enjoy them for fresh eating. Roasting them softened the tomatoes and brought out their delicious flavors. If turnips are considered a freaky vegetable at your house, feel free to substitute some carrots. I used dry tortellini from Trader Joe's. Follow the package directions once you add them to the pot.
This is a tasty and hearty soup, perfect for the upcoming cold winter nights.
Recipe: Tortellini Soup with Sausage and Vegetables
Ingredients
2 pints cherry tomatoes or 4 large tomatoes
1/4 cup olive oil
1 onion, chopped
3 cloves garlic, chopped
1 large turnip, peeled and diced
1 cup green beans, cut into 1-inch chunks
1/2 pound mild bulk Italian sausage, cooked and broken into chunks
6 to 8 cups beef broth
12 ounces cheese tortellini
1 Tablespoon chopped fresh thyme or 1 teaspoon dried thyme
salt and pepper to taste
Instructions
Preheat the oven to 400 °. Lay out the tomatoes on a baking sheet and roast in the oven until cracked and wilted, about 10 minutes for cherry tomatoes or 20 to 30 for large tomatoes.
Meanwhile heat the oil in a large stockpot. Saute the onion and garlic until the onions are clear, about 10 minutes.
Add the turnip and saute for 2 minutes.
Add the green beans and saute for 2 minutes.
Place the tomatoes in the bowl of a food processor fitted with a metal blade and blend until smooth. Alternatively, you can place them in a bowl and use an immersion blender. You should have about 2 cups of tomato puree. Add this to the soup pot along with the sausage and broth. Simmer for 30 minutes.
Bring the soup to a bubble and stir in the cheese tortellini. Cook for the amount prescribed on the pasta package. Stir in the thyme and simmer for another five minutes. Serve hot.
Preparation time: 15 minute(s)
Cooking time: 45 minute(s)
Number of servings (yield): 8