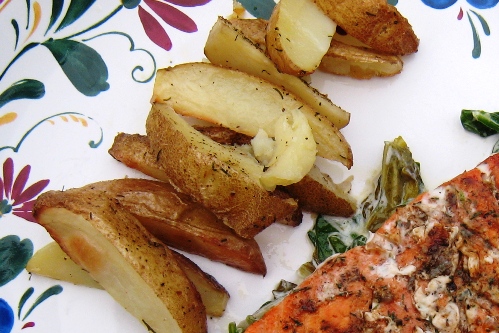 Some of my favorite recipes are virtually non-recipes. Just a little bit of this, a little bit of that, throw it in the oven until it looks right. Eat and enjoy.
Yes, I know. Not all of us are comfortable cooking intuitively. But, really I don't think that you can hurt this recipe. Truly.
And the fact that it contains only a handful of ingredients, all of which are shelf stable, pantry staples, makes this an anytime kind of meal.
I made this with very new potatoes from our produce box. I don't know that I've ever tasted potatoes so fresh. They were almost sweet. My brother came by as we were finishing up dinner and he finished off any spuds that were left. So easy, so good. No one will know that it's a no brainer recipe.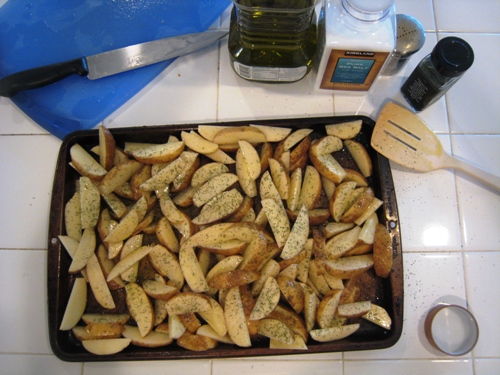 If you have fresh dill, more power to you. I didn't. But, dried seems to work just as well. One of these days, I will plant a herb garden. Until then…. we're see what the pantry and the produce box can provide.
These potatoes are an excellent side dish for chicken, fish, or beef.

Recipe: Simple Dill Potatoes
Ingredients
4 pounds small russet or red potatoes, scrubbed, trimmed, and cut into thin wedges
2 to 3 tablespoons olive oil
1 teaspoon dried dill or 1 Tablespoon fresh chopped dill
salt and pepper to taste
Instructions
Preheat the oven to 400 °. Lightly grease a rimmed baking sheet.
Toss the potatoes with enough olive oil to coat. Add the dill, salt and pepper and toss until herb and spices are well distributed.
Lay the potatoes in the prepared pan and bake for 30 to 45 minutes or until tender and golden brown. Stir once or twice during cooking to prevent sticking.
Adjust seasonings and serve hot.
Preparation time: 10 minute(s)
Cooking time: 45 minute(s)
Number of servings (yield): 8
What's on YOUR plate?
What's on Your Plate? is designed to be a conversation amongst good eaters.
Tell us about a recent meal. Did it meet with rave reviews? Or did it bomb? What side dishes did you pair with the star of the show? Did you try a new ingredient? Find the groceries at great prices?
What's on YOUR Plate?
Share with us a recent meal you prepared. Either link it up below or tell us about it in the comments. Please make sure that you link to www.goodcheapeats.com in your post so others know where the dinner party is.
And don't forget to visit the other good eaters participating today. I'm sure you will be inspired to make all sorts of Good Cheap Eats at your house.