Enjoy delicious, healthy real food with this easy make-ahead lasagne. It's very freezer-friendly, so make more than one.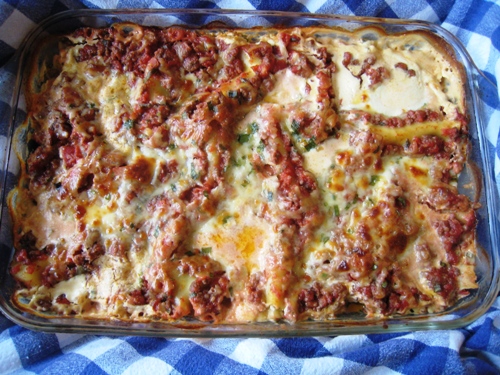 We've really enjoyed our first two weeks of fresh produce from the organic co-op we subscribed to. Yum! It's given me all kinds of motivation to be creative in the kitchen.
The first week I had bundles of garlic chives and basil. Such a luxury to have fresh herbs. I know, they should be easy to grow. But, with six kids and a busy home, my thumbs have turned all brown. So, I'm happy to let someone else do the growing. and watering. and weeding. And I'll just reap the fruits of their labor.
One recent creation was this beef lasagne flavored with fresh garlic chives and basil. It was a huge hit with the lasagne lovers at my house.
The best thing is that I can make three or four pans of lasagne at one time. We eat one for dinner and then I stash the other three in the freezer. It doesn't take that much longer to make more, but we reap the benefits over the next month or two by having a stash to draw from.
Want more tips for freezer cooking? Check out the 31 Days of Freezer Cooking series.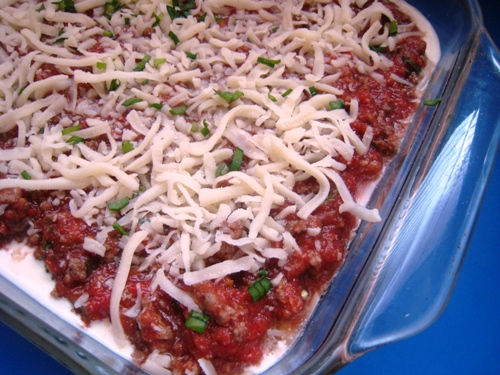 Recipe: Fresh Basil and Garlic Chive Lasagne
Ingredients
1 pound ground beef
1 teaspoon chopped garlic
1 teaspoon salt
one 28-ounce can crushed tomatoes
1/4 cup chopped fresh basil
3 Tablespoons chopped fresh garlic chives
1/4 cup water
1 cup chicken broth
8 ounces cream cheese
3 cups shredded mozzarella cheese
6 to 8 uncooked lasagne noodles
Instructions
Grease a 9×13-inch pan.
In a large skillet, cook the ground beef, salt, and garlic over medium heat until the meat is no longer pink.
Stir in the crushed tomatoes, basil, 2 Tablespoons garlic chives, and water. Set aside.
In a small sauce pot, heat the chicken broth. Add the cream cheese and whisk to blend.
In the prepared pan, spread one half of the meat mixture. Sprinkle 1 cup cheese over the meat. Lay half of the uncooked noodles over the cheese.
Pour the cream cheese mixture over the noodles. Sprinkle 1 cup cheese over the cream cheese mixture. Lay the remaining uncooked noodles over the cheese.
Spoon the remaining meat sauce over the noodles. Sprinkle with the remaining cheese. Sprinkle the remaining 1 Tablespoon chives over the cheese.
Cover and chill in the refrigerator.
At this point the lasagne can be baked or frozen.
Bake the lasagne for 40 minutes at 400 °. Allow to set for 10 minutes before serving.
If freezing, thaw the lasagne completely in the refrigerator before preceding with the baking instructions.
Preparation time: 15 minute(s)
Cooking time: 40 minute(s)
Number of servings (yield): 12
For more freezer-friendly advice, check out the 31 Days of Freezer Cooking series.