Over the last couple years I've put together some digital resources designed to help moms, families, and anyone who simply loves kids. One of those ebooks is called,
FishMama's Guide to Cooking with Children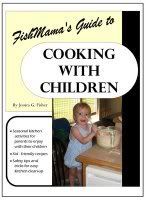 This ebook provides a monthly cooking activity to do with your children. Whether it's a Mexican fiesta in May or Holiday Gifts from the Kitchen, you and the little ones in your life can have a great time stirring up some fun.
Currently, you can buy the book for instant download for $5.
In the coming month or so, I'll be revamping my ebook selection and releasing some new resources.
Watch for it!